5 min read
Who is responsible for WHS in the workplace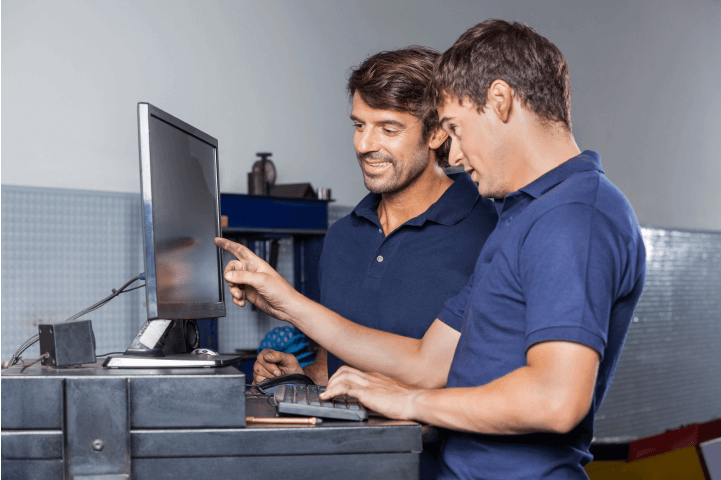 Workplace Health and Safety (WHS) is a critical component of every organisation in Australia. No matter your line of work – whether you're a manufacturer in the industrial sector or a healthcare provider in the medical field – all businesses have a duty to ensure their work environment is as safe as can be.
Effectively managing your workplace safety procedures is hard, but it's even harder if your responsibilities aren't in order. To help erase confusion and ensure your business is following the proper guidelines, we'll guide you through everything you need to know about WHS responsibility, including what's required of you and how you can meet those expectations.
WHS: Who is responsible in your workplace?
It's important to walk before you run. And when you're talking about WHS obligations, it's important to have a proper understanding of your legal responsibility before you start enforcing safety procedures.
So, what exactly is WHS? The Australian government defines the term as a process of identifying, assessing and managing risk and ensuring occupational safety. In other words, WHS is all about protecting your staff from any workplace hazard that might harm their wellbeing.
It's critical to note that WHS isn't just an expectation; it's a legal requirement. The prevailing WHS legislation that impacts your business is the Work Health and Safety Act – WHS Act for short – that Safe Work Australia developed in 2011. Before the WHS Act, occupational safety laws were determined on a state-by-state basis. The primary aim of the new legislation was to create a uniform framework for businesses to follow.
Who is responsible for WHS in the workplace? The short answer is everybody. But according to WHS law, there are two primary parties who hold the most responsibility: the employer and employee.
The former is known as the "person who conducts a business or undertaking" (PCBU). Their WHS obligations are as follows:
Providing regular maintenance of critical equipment.
Eliminating or reducing potential hazards.
Providing safety training, supervision and appropriate personal protective equipment to all staff.
Ensuring regular work breaks are taken.
Implementing and designing safety procedures.
Performing risk assessment,

risk management

and remediation.
As for the employee, their WHS responsibilities include:
Taking care in their duties to act safely.
Not intentionally misusing or interfering with work processes.
Looking after their own health and safety.
Considering the health and safety of their fellow workers.
Notifying employers of the possibility or existence of risk in the workplace.
Cooperating with employers to facilitate WHS practices.
Why WHS responsibilities are important to your workplace
Failure to meet your occupational health and safety requirements isn't only a violation of WHS regulation. It could also pose a substantial risk to the well-being of your staff members, business partners and visitors alike. Even worse, it could cost them their lives – especially if you work in an industry with heavy machinery and dangerous equipment.
The consequences of lacklustre health and safety are far-reaching throughout your work environment. Without proper procedures in place, you risk exposing your business to the following:
Workplace injury: As mentioned, unsafe practices can put staff in danger. According to Safe Work Australia,

194 workplace fatalities

occurred in 2020 alone.
Legal liability: If a workplace injury occurs, the employer may be held liable for the damages. In the 2019 calendar year, over 120,000 serious claims were filed. The median compensation paid was $13,000 per claim.
Loss of productivity: When an accident occurs, production comes to a halt.
Tarnished reputation: The last thing you want as a business owner trying to recruit talent is a reputation for unsafe work practices.
Employee churn: If a worker doesn't feel safe, they inevitably disengage from their job and may even leave the company.
Noncompliance fees: Violating WHS legislation can cost you

millions of dollars

in fines, not to mention jail time.


How to improve WHS in your workplace
When you consider the high price of an unsafe work environment, it's quite clear that WHS matters. Unfortunately, ensuring that WHS obligations are taken seriously in your workplace can be a tall order.
But the good news? There's plenty you can do to promote a culture of workplace safety. Here's how you can get started:
Take a proactive approach: It's one thing to manage an incident after the fact, but to foresee WHS issues before they cause an accident is entirely something else.
Lead from the top down: Effective WHS management begins with safety leadership. Taking ownership of safety in your workplace can set the tone and foster a healthy culture.
Install a training programme:

WHS training

is critical to keeping everyone informed and on the same page about best practices in their business.
Solicit feedback from staff: Your workers are your eyes and ears on the ground. They have valuable insight that could improve WHS management across the board.
Empower through technology: Equip your staff with mobile tools that enable them to report on a hazard in real-time.
A digital approach to health and safety
The steps outlined above are critical to effective WHS management, but none are as powerful as digitising your processes. With a digital WHS management system as your force multiplier, you can streamline WHS responsibilities in one user-friendly platform.
In turn, you stand to gain a tremendous advantage over the challenges of daily health and safety operations, including:
Centralised WHS software makes your primary duty simpler and more manageable.
Mobile solutions enable your workforce to identify risks and expedite incident management

.

Checklists ensure everyone knows their most pressing responsibilities and that they're completed on time.
But the most important benefit of digitised WHS? The peace of mind that you and your employees are safe and free to focus on the tasks at hand.
With over 20 years of experience in the industry, Lucidity knows that nothing is more important than safety. That's why we developed our cloud-based health and safety management solution – the simplest and most comprehensive way to eliminate risk in your business.
To learn more about how Lucidity can help you manage safety in your workplace, contact our team or schedule a free demo today.