- Case Study -
Streamlining Safety
Learn how Royal Wolf use Lucidity to streamline their health & safety processes for shipping container hire, sales or specialised modification solutions across the country.
With over 25 years experience and operations across locations throughout Australia and New Zealand, Royal Wolf is proud to be Australasia's largest provider of shipping container hire, sales or specialised modification solutions. While this means they are best placed to meet the needs of their customers wherever they are located, it was providing some challenges for their existing Safety, Environment and Quality Management system.
Business Challenges
"A lot of administration time was being spent on data entry from existing paper-based systems, we weren't seizing all our opportunities to identify process issues, and we wanted to improve the communication around risk management."
Reliant on paper-based records.

Needed a compliant system for ISO certification.

Inefficient processes due to data entry of hardcopy paper based forms.

Mobility in the field for frontline users and managers was one of their major focuses.

Capturing data out of the office and ensuring that everyone has access to the latest information within a mobile workforce was challenging.

Required a solution to manage and mitigate risk.

Required an integrated HSEQ solution to manage all areas of operations.
"The time had come to invest in a truly integrated management system . . ."
Solution
Royal Wolf reached out to Lucidity after exploring many of the platforms and solutions available in the market.
Mobility in the field for frontline users and managers was one of the major focuses and was crucial in setting Royal Wolf up for success. Having access to an app with offline capabilities ensures all employees are able to report and stay safe, no matter where they were working.
Lucidity allowed Royal Wolfe to digitise its newly updated safety management system, ensuring all employees were able to access relevant safety and business information easily.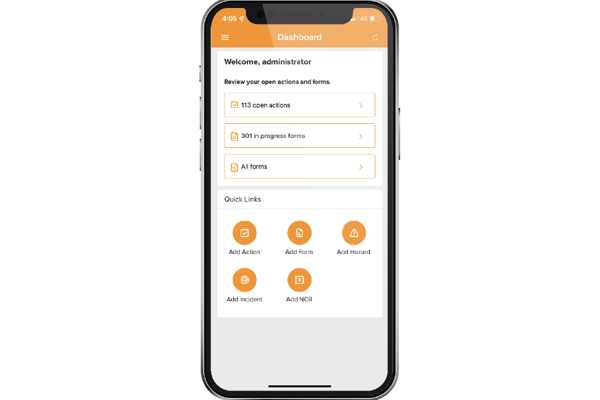 "

Lucidity's software consolidates business processes into a single app, providing employees easy access to custom tools, empowering them to perform at their best."

Outcome
Royal Wolf significantly streamlined their existing business processes and now houses them in one central place that all employees can gain easy access to.
Team members now have a custom set of tools right in the palm of their hands and feel empowered to complete their job at the highest level.
Using Lucidity, managers have true operations and business transparency, which was a major factor in their decision-making process.
Revolutionised their risk management processes. "Working with legally responsible managers requires utmost transparency. Lucidity bridges gaps, enhances communication, and revolutionised risk management across the company."
Fully mobile workforce capturing what is happening out in the field every day.
"The support and ease of working in partnership with Lucidity has been exceptional."
Ready to see how Lucidity can help you?
Experience the software for yourself with a personalised demo tailored to your organisation's specific health and safety needs.