Action Management Software
Streamline and automate action management with Lucidity's workflow automation solution
Streamline Actions and notifications
Lucidity's Action Management functionality allows businesses to automate and track tasks, audits, corrective actions and risk mitigations using a business process workflow management solution.
Actions are integrated with each Lucidity module, creating a centralised system for both creating actions and also ensuring that they can be tracked to completion with workflow management.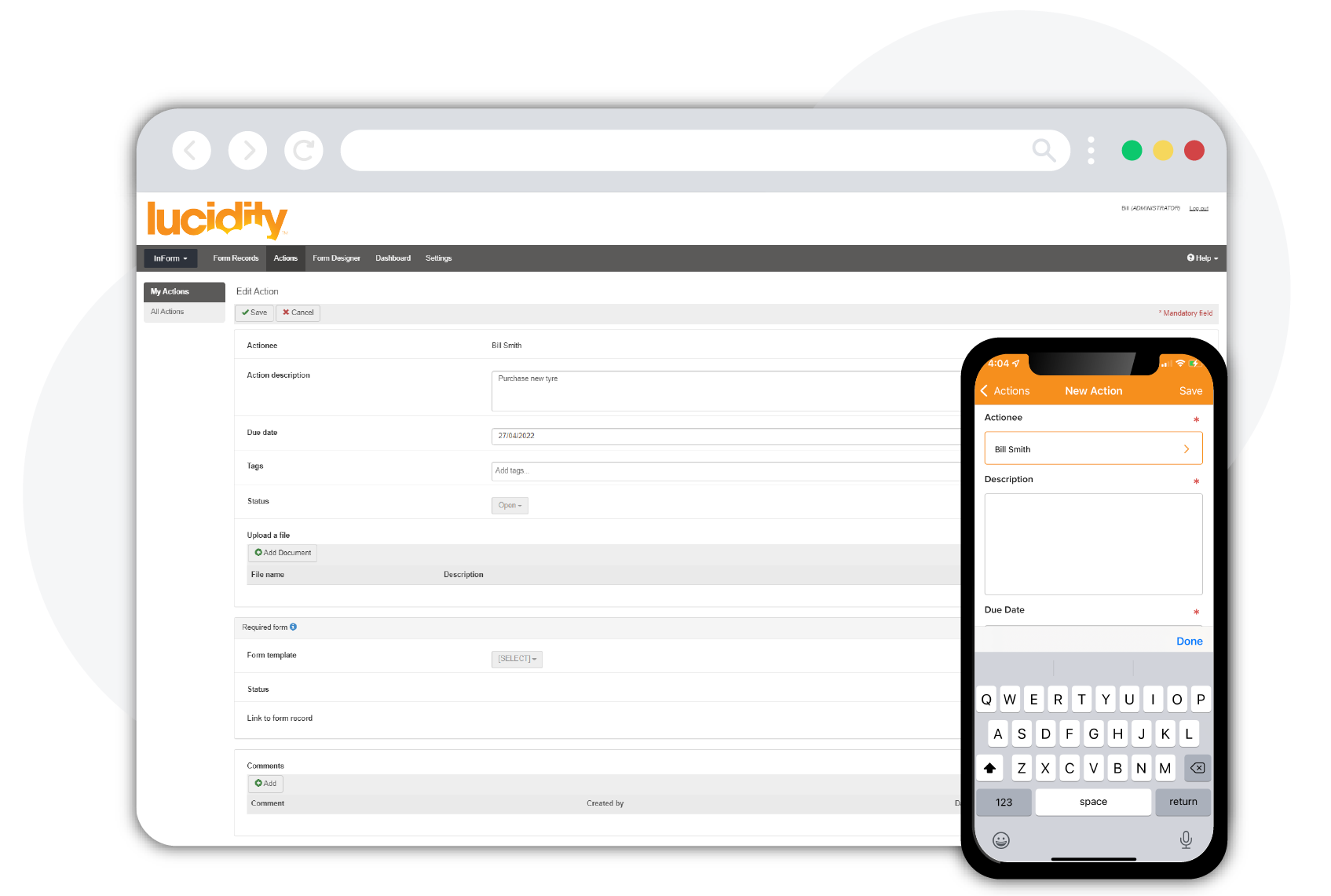 Automate critical processes
In the world of health and safety, ensuring that critical processes are carried out in a timely manner and at the required frequency is key. Overlooking key activities or not being able to monitor and report on the completion of critical tasks and processes can have significant impacts on the safety of your workforce and your sites.
Lucidity's Action Management easily allows you to set recurring or one-off actions for your team to complete, including integration with the Lucidity digital forms platform. Powerful scheduling options and reporting dashboards allow critical activities to be managed across multiple projects and teams and monitored in a central dashboard.
Lucidity's actions provide an auditable, verifiable solution to getting things done. By attaching photos and digital forms, each action has all the supporting information required to confirm completion.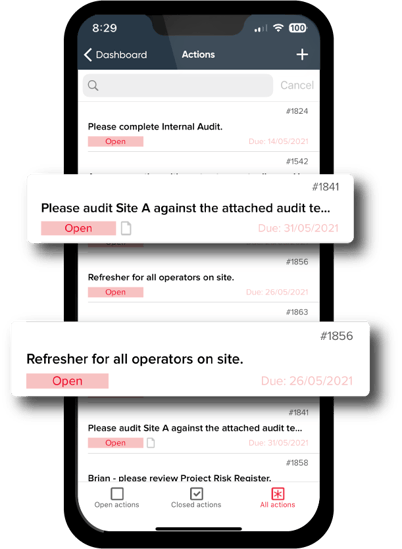 Accelerate your business
Actions allow for a list of tasks to be generated for users to review and complete, while workflow management ensures that repetitive tasks and corrective actions are completed. Actions can be set by system administrators for end-users, by managers for their team members or by users themselves as a personal task list.
View existing actions assigned to them, add personal actions to generate a task list, edit existing personal actions and delete existing personal actions.
Flexible and powerful tagging allows actions to be tracked at an organisation level right down to the functional area, such as safety alerts, internal audits or environmental monitoring. Any one-off or recurring business process can be planned and tracked.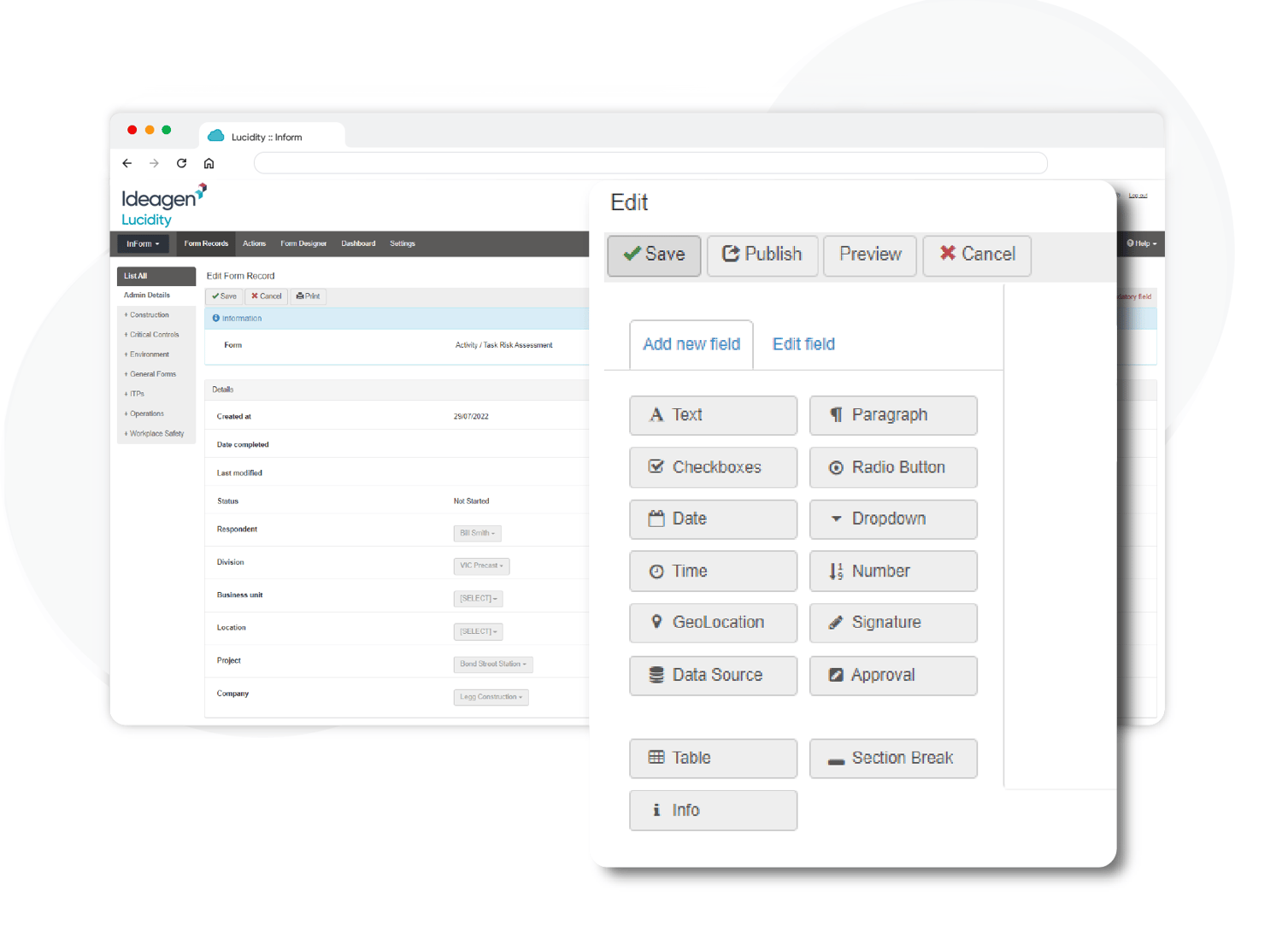 Accessible on the go
Both the Lucidity web desktop and Lucidity App allow team members to:
Clearly see the real-time status of any tasks assigned to them
Be alerted when tasks are allocated and due, including escalations
Filter & report on all outstanding actions for a person, team, or the whole organisation
Your team can use the Lucidity App to complete a task, including attaching digital checklists, taking photos and marking the action as complete, all while out of internet range. The Lucidity App will seamlessly sync the results to the server when a connection is established.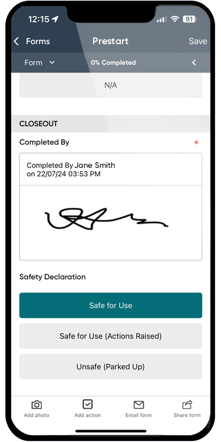 "What makes our sites safe isn't just having software. Making our sites safe relies on the engagement of supervisors and management staff with health and safety software - and Lucidity plays a key role in that."
See how Built used Lucidity's asset management software to make better business decisions.
Ready to see how Lucidity can help you?
Experience the software for yourself with a personalised demo tailored to your organisation's specific health and safety needs.