safety document management system
Lucidity Intranet
Simple access to the latest organisation news, document storage and company management systems.
Safety document management system
How does your team get access to the information they need to safely and productively complete their job?
Lucidity's cloud-based Intranet - safety document management system, provides an online Centre of Excellence for health and safety, environment and quality system documentation and processes.
A single go-to place to find any information, documentation or management systems your team needs. Better connecting your teams and helping them find what they're looking for.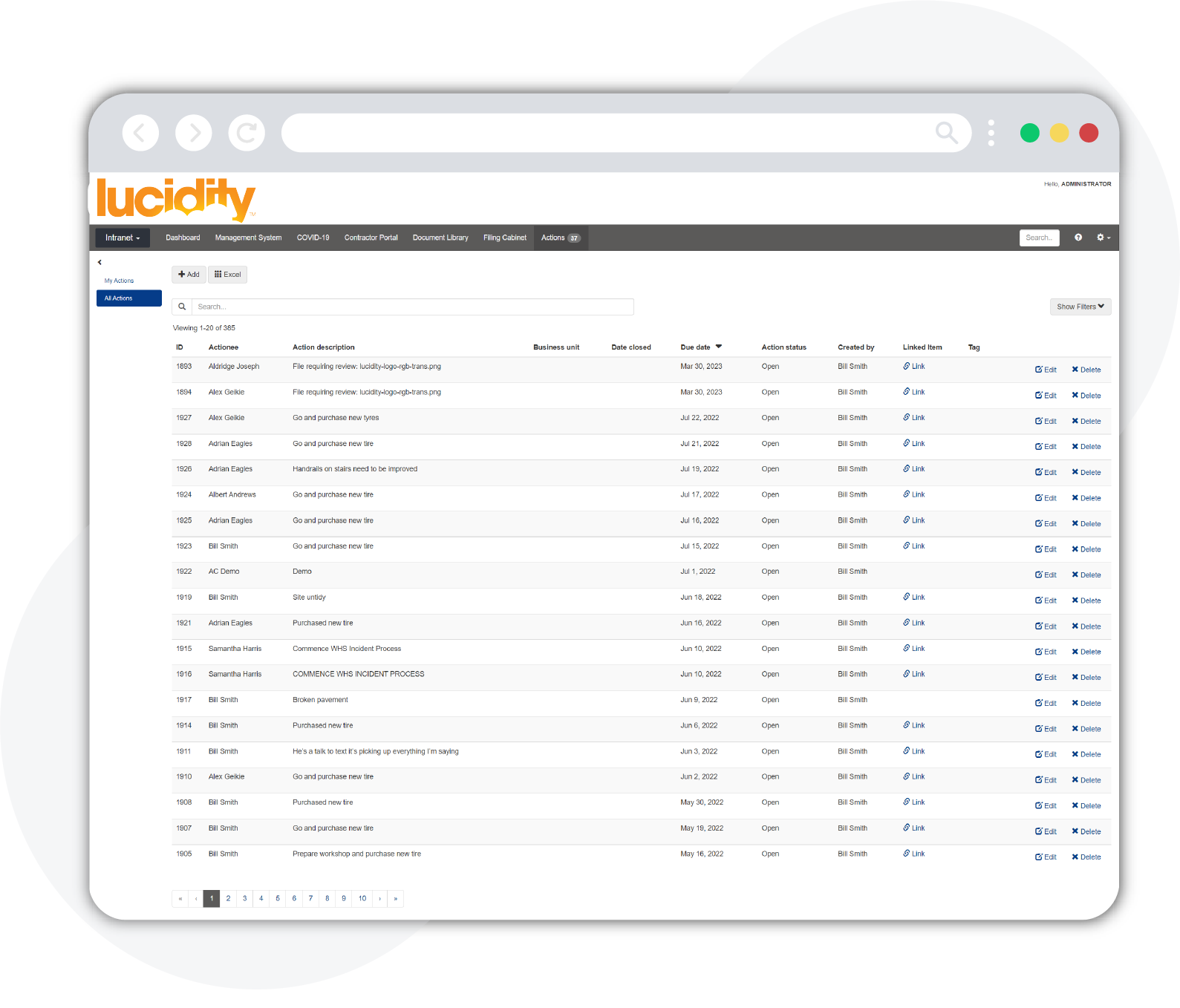 Dashboard
Keep employees and stakeholders up to date with company news, links to action items, forms and other important information
Management System (IMS)
Create interactive and informative screens to draw people into the IMS. Links to documents or other parts of Lucidity Software
Filing Cabinet
Create folder structures to store documents, files and records, all accessible from office, sites or mobile devices. A permissions-based online record storage system
Actions
Link tasks and actions from all Lucidity Software modules into one central location
Accessible on the go
Forget the access issues that come with trying to find information on a server, Lucidity's safety document management system is a cloud-based solution.
As long as you have access to an internet connection, all business news, management systems and documents are easily accessible on desktop, tablet and mobile. Bringing your team together no matter how far apart they are.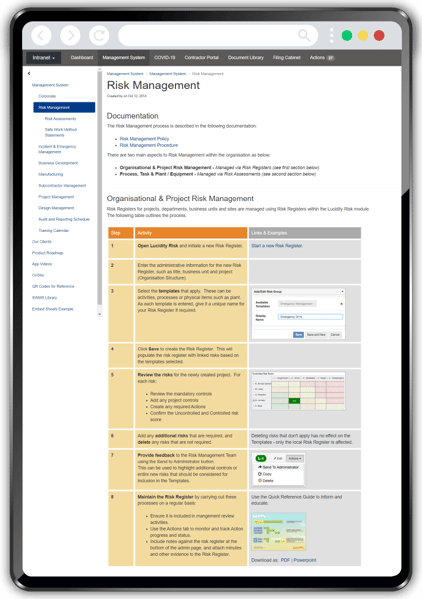 Simple Management Systems
Management systems are crucial to the success of any organization. Connecting teams with vital information they need to complete their job successfully.
But, too often, they end up as a large collection of PDFs on a server – making it difficult and time consuming to find the specific information your team is looking for.
The Integrated Management System (IMS) on our intranet platform has been designed with your team in mind.
With a fully configurable online interface, it can be shaped around your specific organisational structure and act as a central contents page. Guiding your team to the exact documents and information they need and sharing key work health and safety, environment and quality system documentation.
It's also in the cloud – so as long as you have an internet connection, you can access the intranet.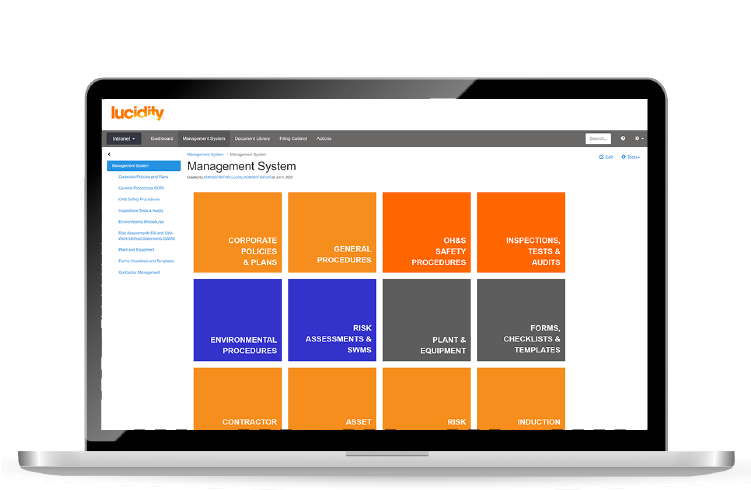 Stay on top of Actions
Missing important business actions is one thing. But in the world of health and safety, any missed actions can have significant impacts on the safety of your workforce and your sites.
The actions function is a key component of Lucidity software. Easily allowing you to set recurring or one-off actions for your employees to complete tasks.
The Intranet allows you to:
Clearly see the real-time status of any tasks assigned to you
Receive email notifications straight from the system when actions need to be completed
Filter & report on all outstanding actions for your team, or the whole organisation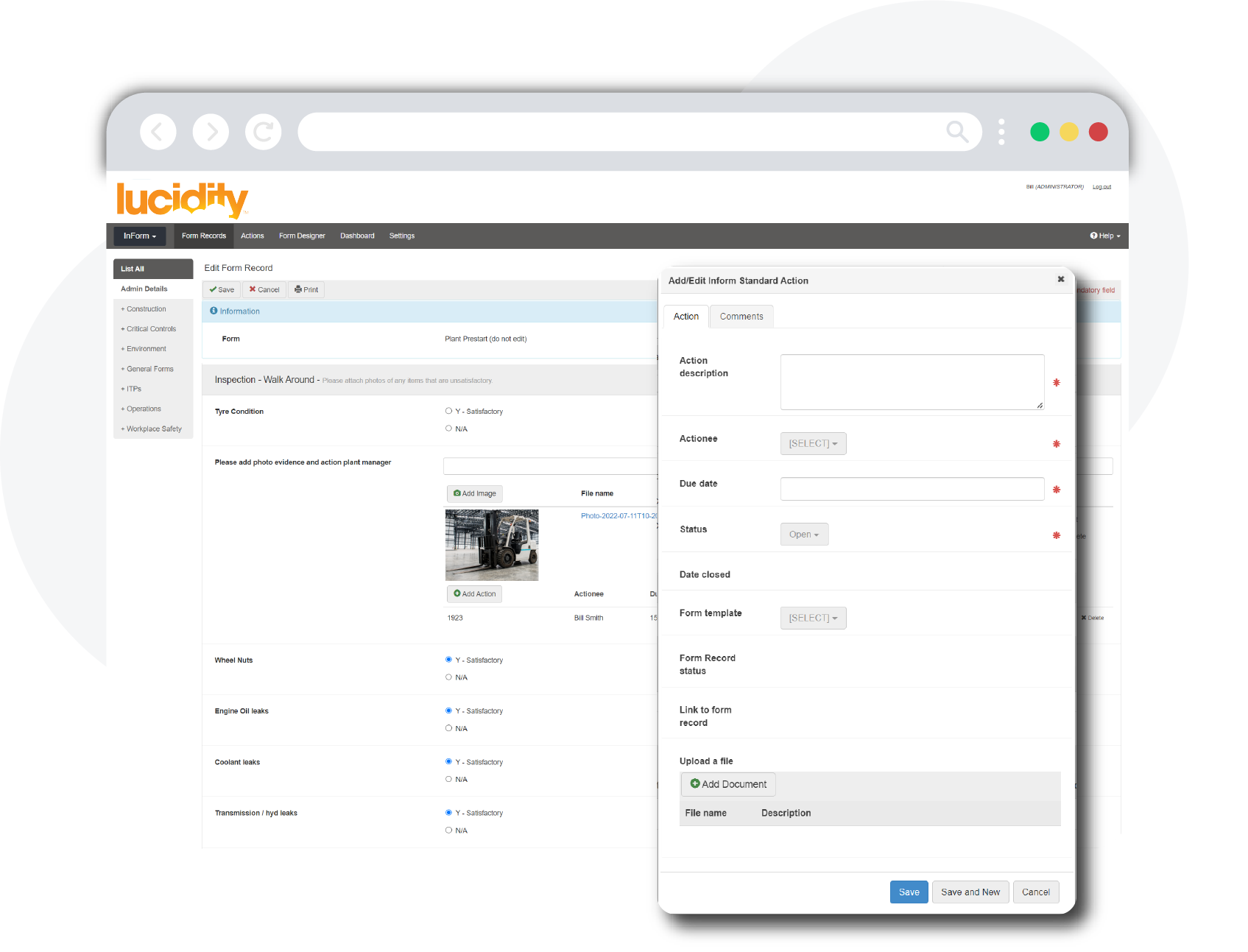 "What makes our sites safe isn't just having software. Making our sites safe relies on the engagement of supervisors and management staff with health and safety software - and Lucidity plays a key role in that."
See how Built used Lucidity's asset management software to make better business decisions.
Ready to see how Lucidity can help you?
Experience the software for yourself with a personalised demo tailored to your organisation's specific health and safety needs.