Risk Management Software
Take the risk out of risk management with a system that simplifies risk register creation and better prepares your team.
HSEQ Risk Assessment Software
Poorly managed risk compromises the safety of your teams, sites and projects.
Lucidity's health and safety risk management software has been designed to empower an organisation's management team to identify and capture the risks that their projects face, referencing the organisation's critical risk controls as well as project-specific needs.
A continuous process of feedback then improves and evolves the whole organisation's risk management structure, keeping your teams safe.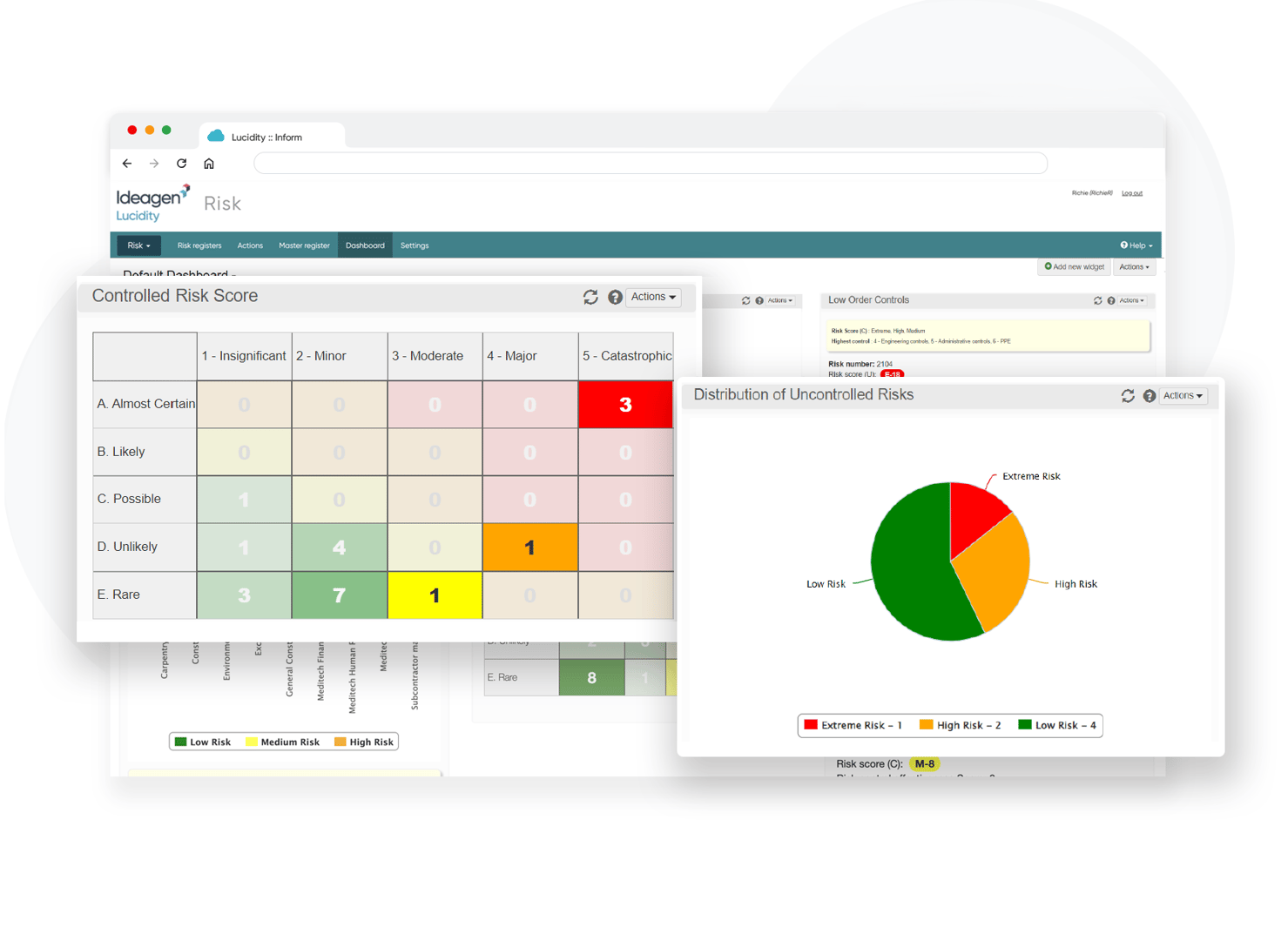 Master Risk Register
Create and manage multiple projects and site risk registers.
Critical Control Management
Allocate the critical controls to each risk assessment
Customisable templates
Flexible templates to generate project, site and process-specific Risk Registers
Project Risk Registers
Developed from template risks to align to project
Risk Assessments
Complete risk assessments and utilise the data for better insights
Dashboard, data and B.I
Interactive dashboard, powerful data and Business Intelligence integration
Centralised Risk Register Software
Creating a risk register from scratch can be a challenge. Our software makes this easy.
Bringing your master risk register into the Lucidity platform, we then work with you to connect these risks to the relevant activities where they occur.
When the time comes to create a project-specific risk register, rather than trying to identify all relevant risks, all you need to do is select the activities associated with that project. Our software will then find the connected risks and pull them together into a customised risk register.
Takes the unknown out of developing risk registers and means your teams are less likely to miss anything.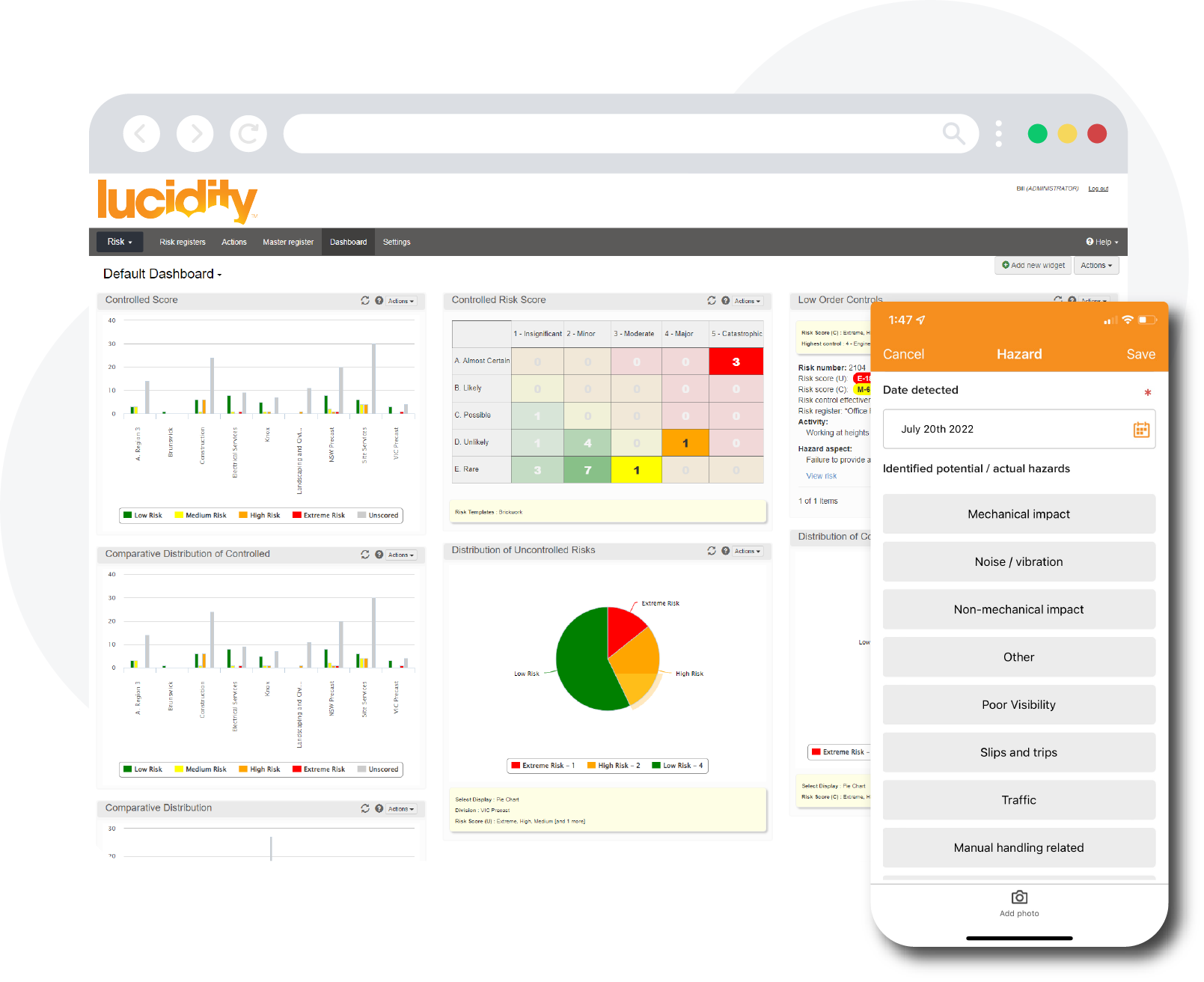 Continuously improve risk management
As detailed as your preparation may be, new risks are always likely to crop up during a project. Rather than just dealing with these risks on a case-by-case basis, we're a big believer in continuously improving your risk management.
Lucidity risk management has an inbuilt feedback loop allowing you to easily add in these additional risks to project-specific risk registers – then flag in the system that this new risk should be included in the master risk register so it isn't missed next time. The system administrator will then receive a notification and can review the risk for inclusion.
Ensuring that your teams are always prepared for any and every risk.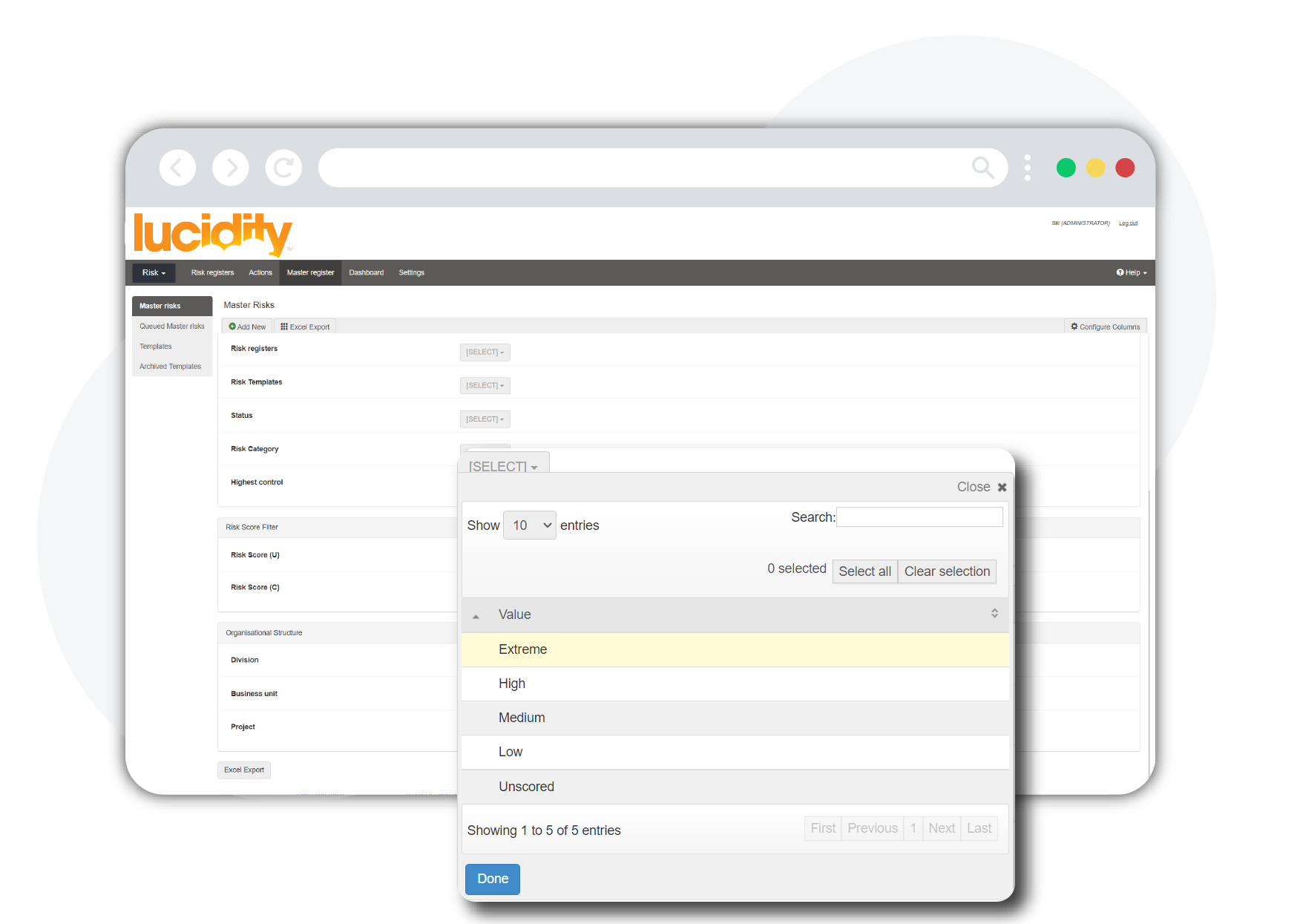 Benefits
Continuously improve with Lucidity Risk
Manage risk control using a systematic method of risk identification
The risk continual improvement mechanism enables additional risks and improvement to existing risks to be added to the Master Risk Register

Each area of the organisation can create their own Risk Register whilst maintaining consistency
Receive insight into the risk profile through histograms, heat maps and activity streams with the Risk Dashboard
Configurable reporting, including automated emailing to a predetermined schedule



"The new level of information we've been able to achieve with Lucidity has meant we've now got access to granular data, all collected from the field in real-time.
It's been a complete game-changer for us."
See how Downer used Lucidity software to better manage their risk and safety processes.
Want some more information?
Speak to one of our team about your organisation's HSEQ needs.