- Case Study -
Creating safety cultures
Learn how Built combined HSEQ experts and accessible systems to ensure that everyone returns home safe at the end of the day.
Proudly Australian and privately owned since 1998, Built has grown to be a national diversified general contractor and one of Australia's largest private construction groups.
Safety has to be ingrained in everything you do, or it'll sit on its own, and people won't engage with it in their day-to-day jobs," says Dave McLean, HSE Manager at Built. "We've tackled this head-on at Built by ensuring that health and safety aren't seen as a bolt-on. It's a key part of our construction process from beginning to end and every point in between.
Business Challenges
Built's workplace health and safety processes and management of contractors was lagging and needed a more streamlined approach. The current approach was inefficient due to the lack of integrated software and reliance on manual processes.

They had restricted oversight of all workplace and health safety issues across all their sites.

At any given time, Built handles numerous construction projects throughout Australia and primarily collaborates with subcontractors. However, they were not effectively tracking if all workers were properly inducted, possessed the necessary licenses, and could report workplace health and safety issues.




Solution
Lucidity collaborated closely with their teams on various projects to ensure that Built's health and safety language and team processes were seamlessly incorporated into the software. They made sure that their new system accurately reflects how they handle their responsibilities for health, safety, environment, and quality.
Thanks to the training and empowerment provided by Lucidity's customer success team, the administrators at Built can now easily make changes to the system without the need to log a job with Lucidity. This has helped them avoid any loss of productivity.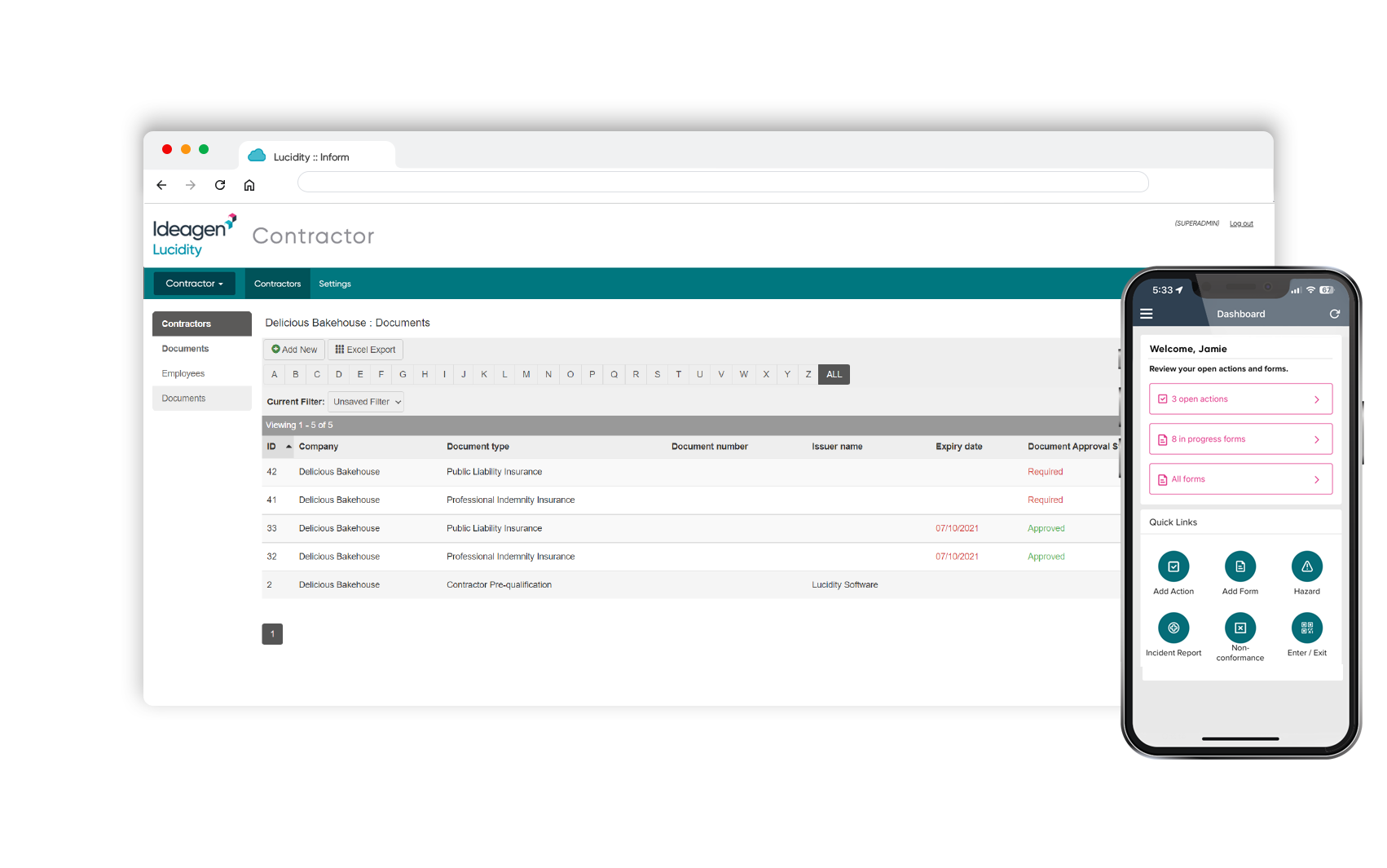 "Making our sites safe relies on the engagement of supervisors and management staff with health and safety - and Lucidity plays a key role in that"
Outcome and benefits
"Lucidity software is easily customised, and we are seeing supervisors, management and staff are more enthusiastic to engage with it. Built are not wasting their valuable time trying to complete a form – it has already been tailored to match how they run safety at their site. Rather than spending their time completing a task on a device, they're out on their sites where it counts, observing, engaging and managing HSEQ."
A new form is completed by the business every 1.3 minutes. Creating A wealth of data to be drawn on when reporting back to internal stakeholders and looking to identify trends across their sites.
Data is captured in a customised monthly report for various stakeholders, giving them a snapshot of the data that is relevant to their role. Information is now presented in a way that helps them easily make informed business decisions.
InForm allows managers and supervisors to build forms to capture the data that matters to them. By going digital, it has streamlined their processes and reduced admin time that was previously spent creating forms manually.
From the client
"At all levels of our business, from project teams and state leadership teams to our executive management team and board, Lucidity plays a vital role. By capturing all the data in Lucidity, we can create a customized monthly report for various stakeholders. This report provides them with a snapshot of real-time data that is relevant to their role and reflects the built health and safety language used internally. The presented information helps stakeholders to make informed business decisions, whether it's about a complex new build project or a small bespoke fit-out. It draws on our internal knowledge and experience and helps us to continue developing our safety culture."
Ready to see how Lucidity can help you?
Experience the software for yourself with a personalised demo tailored to your organisation's specific health and safety needs.