SiteConnect
(powered by Lucidity)
Simple, affordable, powerful Health and Safety solution for growing businesses
The Simple Site Safety Solution for Growing Businesses
SiteConnect is a health & safety and contractor tracking technology. It includes site inductions for contractor compliance, hazard register, incident register, task analysis register, hazardous products register and an emergency response plan register.
New features include tasks, contractor pre-qualifications and site audits.
The app uses GPS capabilities and QR code scanning technologies to provide contractors with relevant site inductions and site hazard information. Site Connect is a product developed by SiteSoft New Zealand Ltd.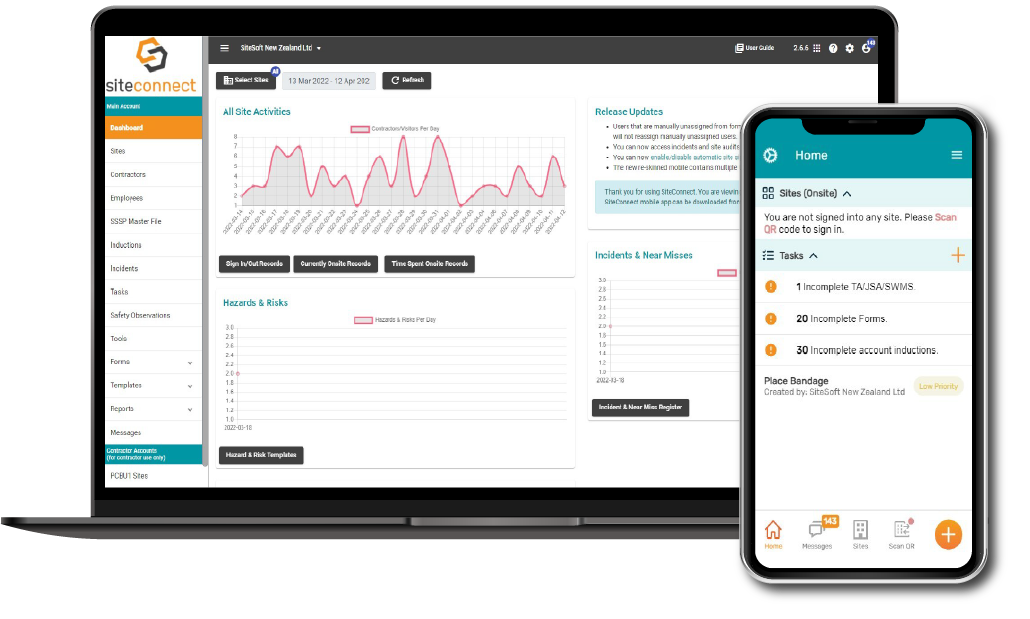 Safety Management
Hazard & Risk register
Hazardous substance register
Digital site noticeboard
Incident & near-miss reporting
Incident investigations
Training and competency register
Communications SMS/push notification/email
Task management
Emergency evacuation information
Site reporting

Site Sign-Ins
Qr Code
Geofence
Kiosk/Tablet
Site inductions
Company inductions
Notification systems
Time on/who is on-site reporting
Site Management
COVID-19 Healthy Site
Lost Time Incidents (LTI)
Inductions


Digital Form Builder
Build any form/form builder (10+ fields to choose from)
PDF form creation and automation
SSSP creation and automation
Safety observations
Toolbox Talks
Site inspections and Audits
Task Analysis/JSA/SWMS
Site documents
Why SiteConnect?
Benefits of SiteConnect
Out-of-the-box

functionality

In-depth supervision of health and safety
Customisability – ensure your system does what it needs!
Allow identification of all risks and hazards
Stakeholders work from the same system
Smooth Inductions
Share key documents and information

Easy communication across the workplace




Ready to see how SiteConnect can help you?
Experience the software for yourself with a personalised demo tailored to your organisation's specific health and safety needs.