Learn how to complete the daily site acknowledgment when signing into Site
Index:
Please watch the following video for a brief overview on hot to complete the daily Site Acknowledgement when signing into any Site.
Please note that this video was recorded before our latest mobile app update so some visual aspects may differ
Daily Site Acknowledgement (1:41)
Please also scroll down this article for further information...
When you enter a site you can sign-in using various sign-in methods. These site sign-in methods are defined by the owners of the site. The sign-in methods that are available is automatic GPS sign-ins, QR code sign-ins and SiteKiosk sign-ins. For more information, please see these two articles:
Automatic GPS Sign-ins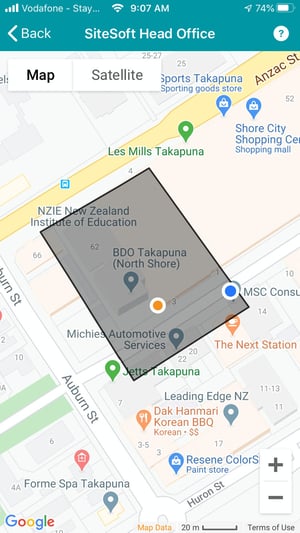 With automatic GPS sign-ins, when you enter the geofence boundaries of the site, you will receive a push notification that you entered the site. You can tap on the push notification to open the daily site acknowledgment.
Automatic GPS sign-ins will require you to have location services enabled for the SiteConnect mobile app. You can choose between two options namely "Always" and "When in use" location tracking. If you choose the "Always" option (highly recommended), you will automatically be signed into and out of sites that are configured with geofences. If you choose the "When in use" option, you will physically need to be inside the geofence boundaries of the site and open the SiteConnect mobile app to be signed in. Have a look at our GPS troubleshooting guide for assistance with identifying automatic site sign-in issues.
QR Code Sign-ins
You can sign into sites using QR codes if the sites are configured for it. For more information on this please see this article here.
If you are having issues with scanning QR codes, make sure you have also granted the SiteConnect app with the relevant permissions to use your camera.
When you use the SiteConnect mobile app to sign into a site by scanning a QR code, you will be signed out of all other sites. Only GPS sign-ins will sign you into multiple sites, especially if they have overlapping geofences.
Completing the daily site acknowledgment
Note: The daily site acknowledgment must be completed once a day for the first site entry of the day. All subsequent site visits for the same day will not ask you to re-submit your daily site acknowledgement.
Once signed in this will then bring up the On Site Hazard Acknowledgement which must be completed in order to sign in. Scroll through the hazards down the bottom, then click the Tap to Complete Sign In prompt to complete your Sign in.
You may also need to complete a question on whether or not you have Covid Symptoms. This is determined by your account administrators
This will being you to the main Onsite screen where you can access the on screen options (Toolbox Talks, Hazards, Site Documents etc.)
You will not see this declaration if you simply select a Site using the Sites menu down the bottom. You have to properly sign in in order to complete this.
For any SiteConnect issues or questions, please contact us at siteconnectsupport@lucidity.io or call us on 0800 748 763.