Here you will learn how to view responses to your Forms that you have assigned to your Users
Index:
Please watch the following video on Viewing Reponses to any of your assigned Forma within your account:
Viewing Responses to Forms (3.56)
Please also scroll down this article for further information...
Viewing Reponses
You can see all of the forms that are NOT Templates and review their responses from this menu. To access this, just click the Forms option on the left hand side under the Forms dropdown.

You will then see a list of all of your Forms. You can also Search and Filter for specific Forms using the two options in the upper right hand corner.

In this list you can see the Form Type, if the Form is Active or not, the number of assigned Users and creation/update dates.
You can click Add Form from here to access the Form Template Builder. Please see this article for help on building Dynamic Form Templates from scratch.
You will have the following options for each Form on the right hand side.

View Responses- View which Users the form is assigned to (if it has been assigned) and see their responses if they have submitted these.
Edit- edit the form itself (add more fields etc.) For more information on this please see here
Clone- Copy/duplicate the Form
Archive- remove the form and archive it so that it is deactivated
Click on View Responses to access a list of all Users assigned to this form (if applicable)

You can also Search for specific Users via the Search bar in the upper right hand corner.
If the option is available, click on View Submitted Answers to see what they have submitted for this form. If this option is not available, the person has not completed the form yet.

This will now also bring up our new Form/Work Approval options. Click here for more information on how Form Approval works
This will bring up a summary of the form they have completed and their entries.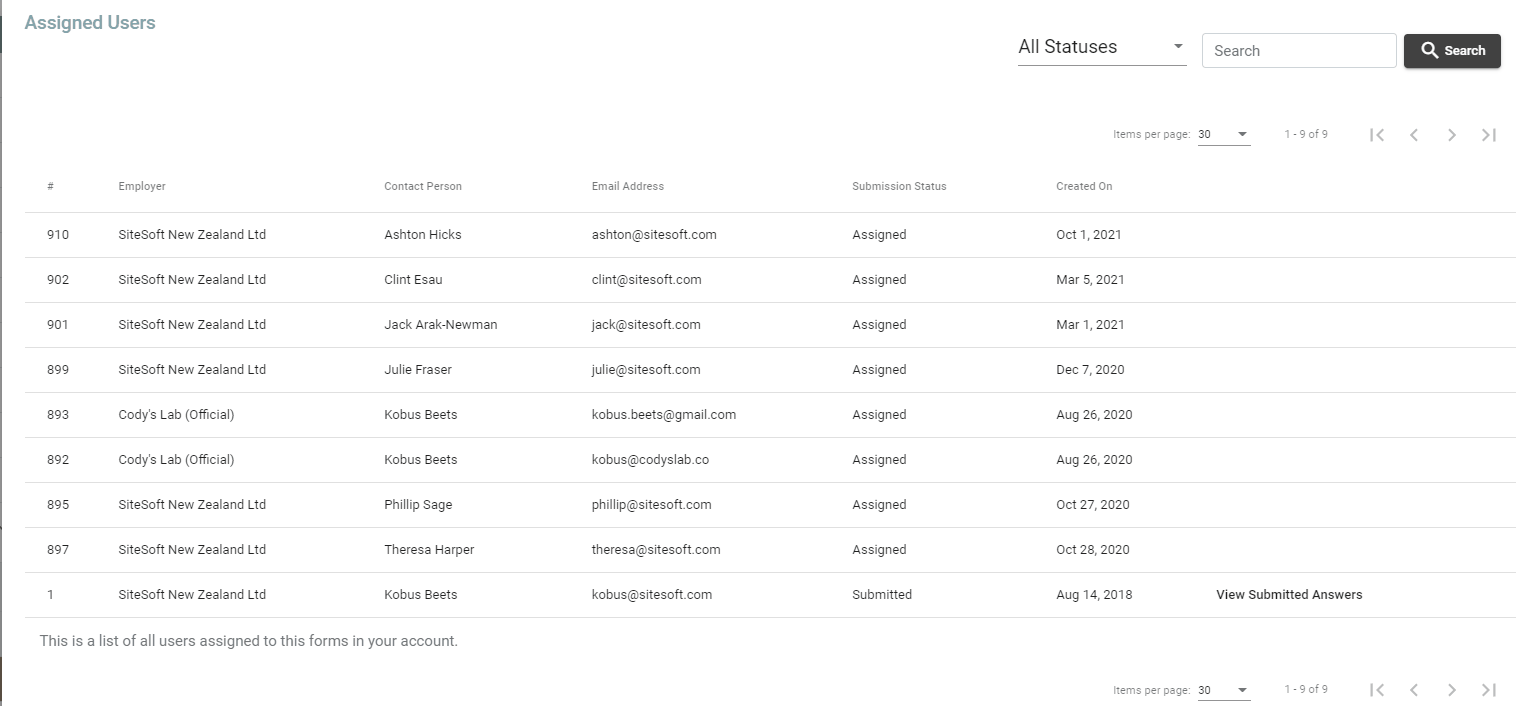 From your Forms list, you can also Import Form Structures by clicking the List option at the top of the list.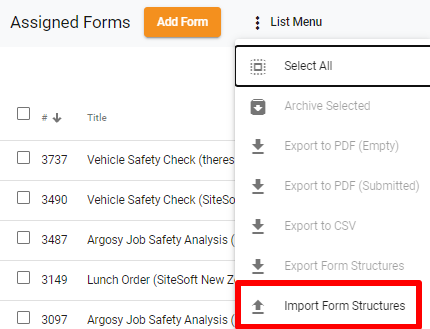 This will allow you to import external Form Templates from your computer. Please note that these need to be Form Structure Files.
Assigning & Un Assigning Forms
You can also Assign Users the form by clicking the View Responses button and then clicking Assign Users up the top

You can also choose to filter this list by Accounts by clicking this button which will bring up a list of your linked Contractor companies.

To unassign a User from the Form you can click Unassign User next to their record when you first click View Reponses.

If you need any further help or have any questions please contact the support team by email siteconnectsupport@lucidity.io or Ph: 0800 748 763.