How to load documents for a Site Specific Safety Plan (SSSP) for a PCBU1 or Main Account holders site
Index:
How to load SSSP documents for a site
Please watch the below video on how Contractors can upload documents for their assigned SSSP's:
Please note that this video was recorded before our latest software update so some visual aspects may differ
Contractors- Uploading PCBU1 documents for a SSSP (2:10)
If you still require assistance after watching then please keep on reading...
How to load SSSP documents for a site
Go to the PCBU1 Projects tab on the Main menu.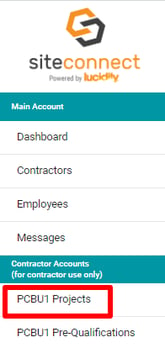 A list of sites that you are connected to from your PCBU1's accounts will be displayed. Locate the required site and click on Create SSSP on the right-hand side of your selected site.

A new dialog box will appear with the site address of your selected site. Click on Add Document.

Another dialog box will appear. Click on the down arrow to the right of Document Type.
How to chose a document type

A drop down list will be displayed.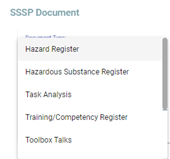 Choose from the below options:
Hazard Register
Hazardous Substance Register
Task Analysis
Training/Competency Register
Toolbox Talks
Emergency Response Plan
Incident Register
Induction
SSSP
Other
How to set an expiry date
You can set an expiry date if applicable by clicking the calendar icon:

How to upload a document
You can upload documents by clicking on Browse Files.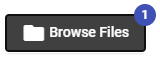 The number of documents selected will be displayed in blue. Click on the Save button to save the document record and upload the selected files to it.
The uploaded document will show under the Uploaded Files header and the document status will read as Submitted.

Only the PCBU1 or the Main account/site holder Can change the status, add comments and give a rating. You will be able to see any comments and ratings added by the PCBU1 or main account holder.
Keep following this procedure until you have uploaded all the required documents for the site/project. Once you have uploaded your documents the PCBU1 (Contractor) or Main Premium Account holder will be able to see your documents and can review them, add comments and rate them.
If you need any further help or have any questions please contact the support team by email at siteconnectsupport@lucidity.io or Ph: 0800 848 763